Destination Wedding and Honeymooning Tips from the AZ Wedding Show
May 2, 2022, 16:20 PM
The COVID-19 pandemic had a huge impact on dozens of industries, two of the largest effected among them were weddings and tourism. Now COVID infection rates have decreased, and the world is a bit safer, we are seeing these industries bouncing back stronger than ever.

If you are planning a destination wedding or figuring out your honeymoon, we have a few great tips to make your travel and wedding a breeze.
Destination Weddings

Destination weddings are increasing in popularity - 1 in 4 weddings are destination weddings. That means over 340,000 destination weddings take place each year and accounts for $16 billion in the wedding market.
Within the United States, the most popular destination wedding locations are Florida, California and Nevada. The top three locations for destination weddings outside the U.S are The Caribbean, Mexico and Hawaii.
For those planning a wedding a bit farther away from home, we have a few insider secrets to consider before locking in your location.

1. You want to tailor your dress to fit the location of your wedding. Beach weddings call for a more casual attire for the bride, groom and guests. If you want a black-tie wedding, this may not be a perfect fit for you.
2. Also, while it is not required for the bride and groom to cover the cost of accommodation for their guests, it is considerate to provide enough recommendations to cover a range of budgets.
3. Lastly, and most importantly, visit the location of your wedding in advance. Most couple chose a destination that is special to them so they have often visited prior but if this will be one of your first adventures in a foreign place, visit ahead of time so you are not lost the day of your wedding.
Destination weddings not only provide a gorgeous backdrop for your big day, but it also lends itself to an intimate ceremony with the people you love most. Another benefit to the destination wedding, is the ease of your ceremony and honeymoon happening in the same location.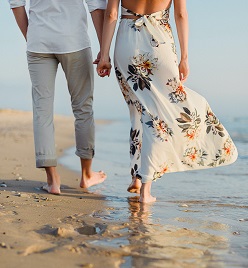 Honeymooning

Couples travel all over the world to celebrate their new marriage. In the last few years, the most popular honeymoon spots have been locations that feature beautiful tropical beaches such as the Bahamas, Costa Rica, Bora Bora, the Maldives and coastal California.

The number one tip for planning your perfect honeymoon is to book far in advance. On average, couples book at least 6 to 12 months out from their wedding. It is also important to consider fluctuations in high tourism times. The busier season results in more expensive booking rates and congested tourist attractions.

Do your research ahead of time so you can plan the honeymoon most suited to your needs.

Doing research for both destination weddings and honeymoons can be stressful, but it is also indispensable. However, if you want to take some of the burden off your wedding planning plate, there are plenty of Arizona experts who can assist with research, booking and planning.

Wedding planners and travel agents will be ready to help you plan your once-in-a-lifetime experiences at the Arizona Wedding Show, back this June
To learn more about the vendors at the AZ Wedding Show visit our interactive vendor list
here
.