2022 Wedding Trends: What's in & what's out
Mar 31, 2022, 22:59 PM
In 2022, there will be an estimated 2.6 million weddings – the most since 1984. With such a huge influx of celebrations, 2022 is sure to play a big role in setting the trends for many years to come. Here's a quick look at the trends that are in, and out, this year.

What's In

Unique Wedding Gowns

Many brides are scrapping the traditional white gown for colorful, contemporary designs. Wedding suits, mini dresses and two-piece ensembles are abounding in popularity. The wedding suit offers a modern and classically cool look. If you're in love with the style of a suit but want the traditional gown for the ceremony, try it out for reception wear! Fashion forward brides are also electing for mini wedding dresses. These dresses deliver the same bridal beauty as a floor length gown, with more than 50% less fabric. Separates are another chic option, not to mention it's much easier to find another occasion to wear and reuse your bridal separates.
Brides are also adding bold accessories, like non-heirloom pearls, flashy outwear, statement veils and shoulder-dusting earrings to their wedding day fits.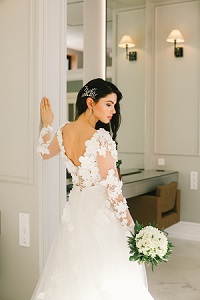 Sustainable Practices
As growing awareness is being brought to environmental concerns in the wedding industry, many bridal parties are looking for sustainable wedding options. A few easy adjustments include hosting the ceremony and reception at the same location to reduce driving-related emissions, opting for outdoor ceremonies that are naturally beautiful, requiring less work and waste from decorations, and virtual save the dates to reduce paper waste and mailing costs.
Intimate weddings were born out of necessity during COVID-19 lockdowns and the subsequent pandemic. Now, as safety precautions are lifting, many couples are still opting for the same. Whether hosting a small wedding or not, "intimate" is the atmosphere couples are looking to create. Warm, soft lighted ambiance, personalized décor and reception games are just a few of the ways couples are curating this vibe.
For added intimacy between the couple, photographers are witnessing more and more private vows. Private vows, which often happen during a first look, allows the couple to be more comfortable and present when sharing their promises for forever.
Muted Color Schemes
Brides are choosing bright and bold colors. Although colorful events are a top trend, neutrals like cream, ivory, beige, and gray aren't going anywhere. Instead, brides are looking for a bright pop of color that accentuates achromatic tones.

Bouquet and Garter Tosses

This traditional reception event is on its way out. Instead, couples are choosing to reallocate the time spent on these old traditions with a private last dance. Garter tosses are expected to be less common than the bouquet toss.

Party Favors

Party favors are wasted funds and couples coming out of COVID are wanting to spend every penny in a worthwhile way, whether it be at the ceremony or for the honeymoon. More often than not, wedding favors are left behind and not remembered by wedding guests. This detail just isn't that important on the big day.
Regardless of these trends, the most important thing to do when planning your wedding, is to chose what feels true to you. Vendors at the AZ Wedding Show can help you find the perfect fit for you. To get a head start on planning and to learn more about our wedding vendors, visit the interactive vendor list
here.